Youth I.D.E.A.S. 03
Governance and Constitutional Development
Who is Willing to Take up Positions in Public Affairs?

30 September, 2015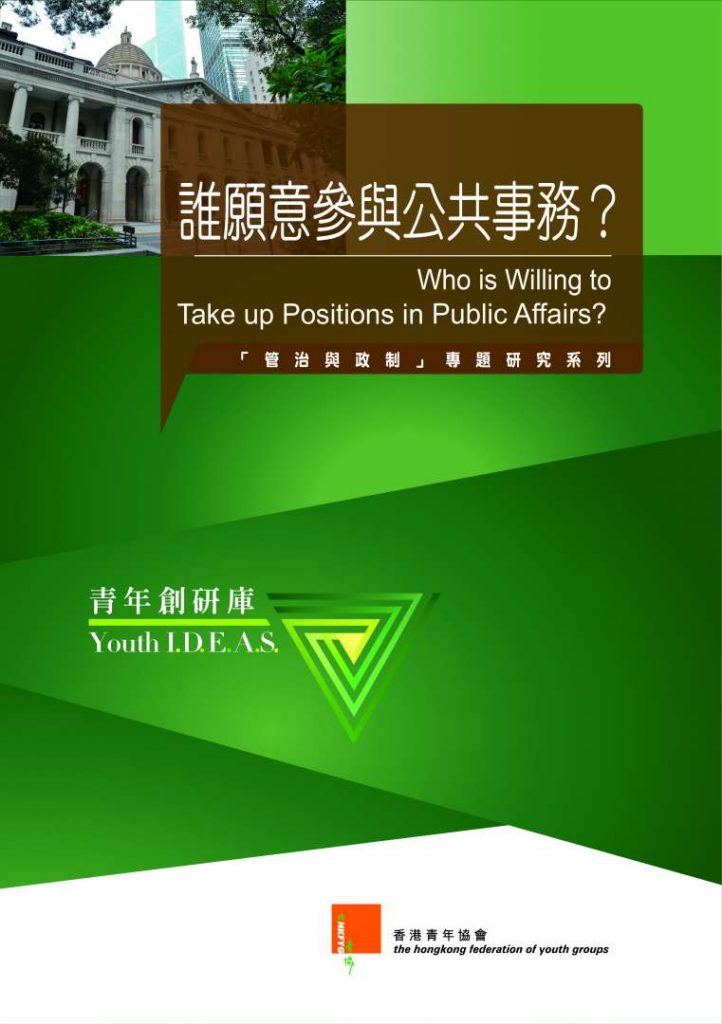 Young people's participation in society is an important element of sustainable social development because it increases their sense of belonging and commitment to society.  It also allows young people to unleash their creativity and uniqueness, and to help create the society that they envision.  Three decades ago, the United Nations made "Participation, Development, Peace" the theme of the first International Youth Year, defining the role of young people in the participation of national and social affairs, economic development, and world peace, and also emphasizing the importance of young people's participation in shaping the future of humankind.
In recent years, there has been increased attention on young people's participation in public affairs, in particular with the concept of citizenship participation.  As a member of society, young people have a right as well as a responsibility to participate in that society.  Serving the community with specific posts in different platforms is a type of participation in public affairs.  As such, young people can help construct society through concrete actions.
This research examines the participation in public affairs by young people in Hong Kong.  The scope of participation in public affairs is very wide.  This research focuses on positional participation, which implies time commitment, responsibility bearing, community service, and skills training such as decision-making and teamwork building.
This research collects data through a random sampling telephone poll, case studies on young people, and interviews with scholars, as well as interviews with long serving eminent leaders from different sectors.  This research aims to explore the difficulties, obstacles, and needs of young people in participating in public affairs.  Recommendations are put forward in an attempt to encourage more young people to serve the community by taking up positions.
The survey was conducted in July and August of 2015, and there were 520 respondents between the ages of 18 and 34.  The case studies were conducted in July with a total of 20 young people between the ages of 18 and 33.  The interviews were conducted in July and August with 5 scholars and leaders.
Discussion
Young people are positive about serving the community by taking up positional roles.  Society should cherish them and help preserve this desire.
Young people mistrust and have a negative impression of the government, making them reluctant to join the government.  The government needs to create more channels of participation for young people and attempt to improve communication and mutual trust between the two sides.
Due to competition in society, young people have to choose between personal career development and participation in public affairs, resulting in them putting off or even giving up their enthusiasm in taking up posts in public affairs.
Some personal obstacles prevent young people from participating in public affairs.  Society needs to help young people eliminate these obstacles in order for them to reach their potential.  Some young people want training to prepare them for participation in public service.
Young people need recognition and encouragement from peers.
Recommendation
Setting up a benchmark for non-official members ages 40 or below in government advisory and statutory bodies.
Promoting a workplace culture that is friendly toward participating in public affairs.
Organizing international forums or conferences for young people.
Starting a platform for dialogue.
Providing training.