Youth I.D.E.A.S. 16
Education and Innovation
Attitude of Secondary Students on Physical Education

28 November, 2016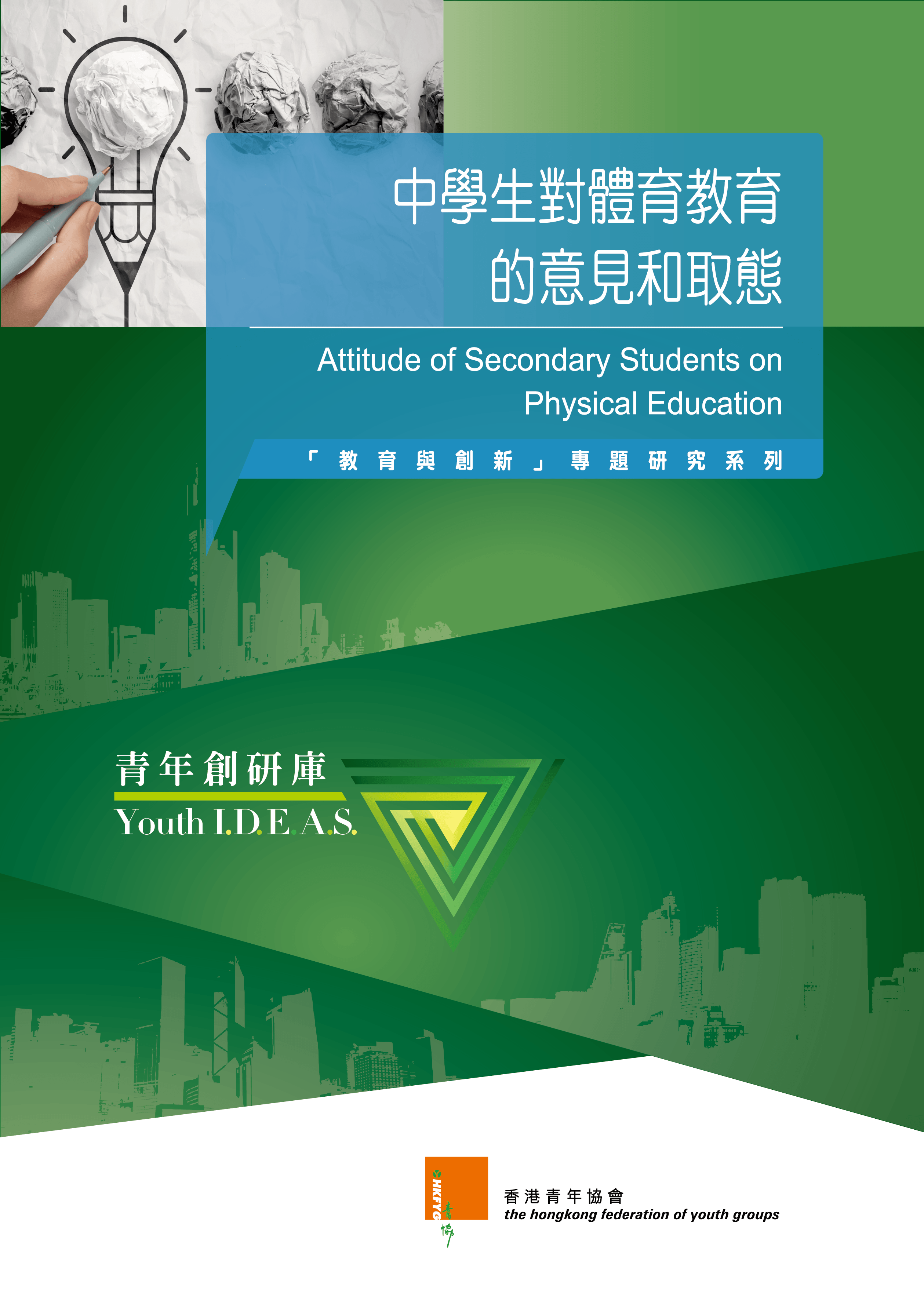 Physical activity (PA) is good for the body and mind. It not only promotes the development of body muscles, but also helps relieve mental stress. Physical Education (PE) is one of the eight key learning areas and five basic learning experiences in the secondary school curriculum. According to the guidelines issued by the Curriculum Development Council, PE aims to teach students various sports and sports knowledge, help them build an active and healthy lifestyle, and cultivate good morals.
However, according to the "Healthy Exercise for All Campaign – Physical Fitness Test for the Community" final summary report, only 8.4% of 2,517 students in Hong Kong (aged 13 to 19) could meet the level  of PA in 2011-2012 as recommended by the WHO[1]. The percentage of which lagged far below other regions. A study by the Li Ka Shing Faculty of Medicine of the University of Hong Kong in 2015, noted that there was no significant improvement of cardiopulmonary fitness among Hong Kong students over the past few years. In this aspect, students in Hong Kong were less fit than their peers in Europe.
In addition, a survey released by the United Nations Educational, Scientific and Cultural Organization (UNESCO) in 2014[2] observed that Hong Kong secondary school students have an average of only 90 minutes of PE classes a week, which is notably less than in either European and American countries or neighbouring regions.
In terms of the level of PA, cardiorespiratory fitness, and physical education hours in secondary schools, young people in Hong Kong have not only failed to meet globally-recognised standards, but they are also far below regional standards. This has raised concerns about whether PE classes in secondary schools are currently effective in cultivating students' interest in sports and establishing good sports habits.
This study aims to review PE classes among secondary school students in Hong Kong and their perceptions of PE. Through understanding their practices in PA, as well as the tendency to develop professional PA careers, recommendations will be put forward in an attempt to address the issues concerned.
Discussion
The physical or mental health of secondary school students in Hong Kong deserves our attention. Effective PE is believed to be helpful for students to build a healthy life.
Schools, teachers, and parents generally put more emphasis on academic performance and sports level. It is difficult for students to increase their interest in sports.
Although interviewed students affirm the value of doing exercise, their level of exercise is insufficient. PE is one of the important platforms for students to understand the benefits of sports. However, the current lack of PE classes affects students' enthusiasm in sports.
Some schools tend to teach traditional ball sports in PE classes based on considerations such as resources or teaching priority; the programs are not diversified and it is more difficult to motivate students.
Problems such as lack of sports venues and facilities not only reduce students' desire to do sports, but also affect their opportunities to experience different sports activities.
As a whole, secondary school students are not well aware of the occupations related to sports industry. This might hinder their career planning and development.
Recommendation
Increase the PE class hours of secondary schools from the current average of 90 minutes to 100-120 minutes, which is close to the level of other regions. This could help allow students to have sufficient time to engage with sports.
Make good use of school resources, organise diverse and time-flexible sports-related extracurricular activities in an attempt to assist students to develop a sports interest.
Promote cooperation between the government, schools, and sports organisations to share sports facilities and resources, so that students could actively participate in sports or conduct training in safe and properly-equipped venues.
Schools should organise a sports week to promote and publicise sports development, involve parents and teachers, etc., to establish an atmosphere of engaging in sports.
Appoint well-known athletes as sports ambassadors to share their experiences with students. This could also help deepen students' understanding of the development of sports and related industries.
Develop awareness of the importance of exercise for physical and mental health from an early age, so as to strengthen students' own motivation to cultivate good exercise habits.
---
[1] World Health Organization. (2010). Global Recommendations on Physical Activity for Health.
[2] United Nations Educational, Scientific and Cultural Organization. (2014).World-wide Survey of School Physical Education-Final Report 2013, 113.