Youth I.D.E.A.S. 27
Employment and Economic Development
e-Sports in Hong Kong

30 January, 2018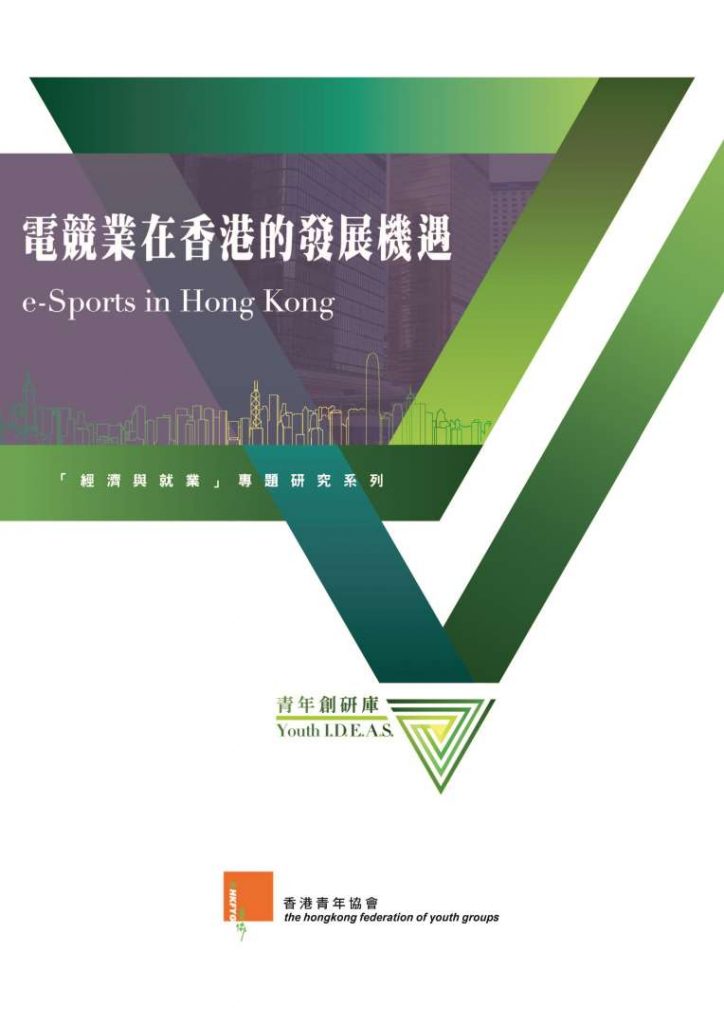 e-Sports consists of organised video game competitions that include elements of both video game and sports.  It is a popular activity among young people today.  Participants may watch or take part in competitions.
According the to the Global e-Sports market report, the global e-Sports audience has reached 385 million in 2017 and will reach 589 million in 2020[1].  The Olympic Council of Asia has also announced that e-Sports will become a medal event in the 2022 Hangzhou Asian Games[2].
Because of its economic value, e-Sports has developed into a growing global leisure industry which brings about new alternatives for youth career development.  The above report estimated that the e-Sports economy has grown to US$696 million in 2017 and is expected to reach US$1.49 billion in 2020[3].  The economic value includes peripheral hardware equipment, games, events and the revenue generated by live streaming and broadcasting.  Therefore, e-Sports can offer opportunities for career development.
The e-Sports industry is already quite well developed regions near Hong Kong.  For instance, the economic value of Korea's e-Sports market was around US$77.5 million in 2016[4] while that in Mainland China even reached US$104 million in 2017[5].  In Taiwan, the market size is also gradually increasing.  The governments of these three places have devised policies and measures to enhance the development of e-Sports, such as building large stadiums, passing laws to formally incorporate e-Sports into the sports industry, offering undergraduate programmes in colleges in order to train well-rounded and professional e-Sports talents, and so on.
In Hong Kong society, the narrow economic structure is always being criticised.  This economic structure has also limited the choice of employment for young people.  There is great market potential for e-Sports in Asia and the world, which would be helpful for the diversified development of Hong Kong's economy.  But the e-Sports industry in Hong Kong is only in its beginning stage. The first e-Sports company only appeared in Hong Kong in 2013[6].  Professional training and development opportunities are rare in the industry.  Additionally, the government has yet to devise concrete policies to support e-Sports.  The overall development of Hong Kong's e-Sports is lagging behind that of nearby regions.  Hong Kong may miss the opportunities present by e-Sports if it fails to catch up with this development trend.
How should e-Sports be developed in Hong Kong so that it could bring about a better economic future and provide more diversified opportunities for young people?  This study examines the problem by looking at the development of the industry, its training and the attitudes of young people.  It is hoped that concrete recommendations can be made to advance the development of e-Sports in Hong Kong and to provide diversified employment opportunities for young people.
This study uses data collected by three methods during the period from November to December 2017: an online survey of 1,407 young people aged 15-29; focus groups and case interviews with 20 young people; and interviews with 7 experts and scholars.
Discussion
The e-Sports industry has economic value and development potential whilst it is popular among young people.  Hong Kong should seize the opportunity to enhance diversified economic development and youth employment.
e-Sports will soon become a medal event in the Asian Games.  It is also considered a formal sport in various places.  However, the status of e-Sports as a sport is still controversial in Hong Kong.  It is apparent that this is lagging behind the world trend.
Hong Kong needs to overcome a number of obstacles if it is to further develop e-Sports.  The negative social image that restrains talent from taking part in the industry and discourages the viewing of the sport should be improved.
The continuous development of e-Sports requires many more favourable conditions.  Hong Kong lacks venues with suitable electronic devices and fast internet networks in which to organise and hold large e-Sports tournaments.  This makes it difficult for regular leagues to appear and therefore limits the development of the industry and the talent.
The key to the long-term development of e-Sports is the training of talent.  Hong Kong lacks a comprehensive and formal way of training e-Sports talent, which leads to insufficient support in the logistic and peripheral work.  In addition to the quality of talent, this would also affect the willingness of young people to join the industry.
Recommendation
The government should recognise e-Sports officially in order to enhance its status.
Set up an "e-Sports hub" to provide long-term development base.
The government should take the lead in organising mega e-Sports leagues and tournaments in order to enhance the overall standard of e-Sports.
Promote e-Sports culture and improve its image with ambassadors.
---
[1] Newzoo. (2017). 2017 Global esports market report. Retrieved 1 December, 2017 from https://newzoo.com/
[2] Olympic Council of Asia. (2017, Apr 17). "OCA, Alisports announce E-Sports partnership for Hangzhou 2022". Retrieved 19 January, 2018 from http://www.ocasia.org/News/IndexNewsRM.aspx?WKegervtea30hootVhTdtQ==#
[3] Newzoo. (2017). 2017 Global esports market report. Retrieved 1 December, 2017 from https://newzoo.com/
[4] GNN新聞。2017年11月28日。〈韓國電競選手平均年薪約新台幣 290 萬元 韓電競產業規模約達 25 億元〉,網址https://gnn.gamer.com.tw/8/155798.html,2018年1月17日下載。
[5] Newzoo. (2017, Feb 14). "Esports revenues will reach $696 million this year and grow to $1.5 billion by 2020 as brand investment doubles". Retrieved 18 January, 2018 from https://newzoo.com/insights/articles/esports-revenues-will-reach-696-million-in-2017/
[6] 李澄欣。2017。〈「香港王思聰」拓電競媒體 闖東南亞〉,《信報財經月刊》,2017年8月。