Youth I.D.E.A.S. 28
Society and Livelihood
Promoting Organ Donation in Hong Kong

11 February, 2018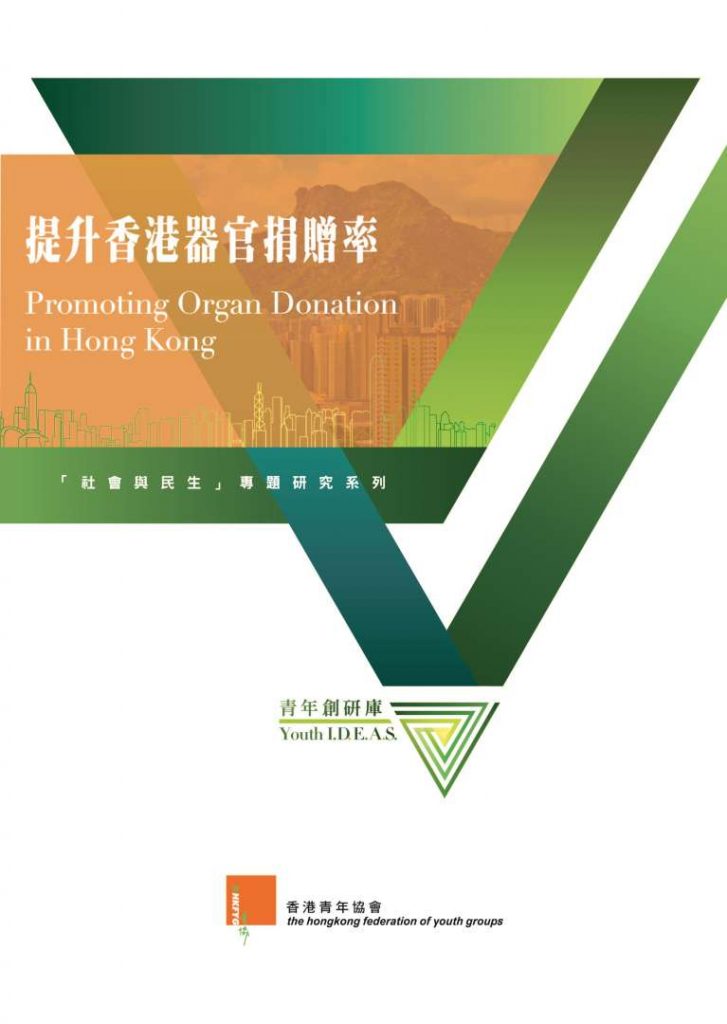 Every day, over 2,000 patients in Hong Kong are waiting for an organ transplant to extend their lives. However, the organ donation rate in Hong Kong is currently amongst the lowest in the world at 6.3 donors per million people, seven times lower than that of Spain in 2016. Some Hong Kong patients even die whilst waiting for an organ transplant.
Hong Kong has long maintained a policy of 'voluntary organ donation'. Under this mechanism, everyone can register themselves on the Centralised Organ Donation Register to show their willingness to donate their organs after their death. Currently, family members of potential donors legally hold the power to make the final decision; their consent must be given for the donation of the deceased's organs.
In June 2017, the government released a paper titled 'Background Information on Organ Donation and Transplant'. Views have been invited on the feasibility of three main suggestions, namely, a lowering of the age requirement for live organ donation, a paired donation scheme, and an opt-out scheme.
As the future masters of our society, young people, apart from making their own decisions on organ donation, might also be required to make decisions regarding their dead relatives. According to a report conducted by the Statistic and Census Department, young and middle-aged persons were more willing to donate their organs after death than persons in other age groups. This shows that it is important to know young people's views and attitudes on organ donation, for these can provide insights into promoting organ donation amongst the general public.
In conducting this research, data were collected for analysis through a survey of 527 young people aged 18-34, three focus groups with 20 young people, and interviews with six experts or academics, from December 2017 to January 2018. It is hoped that this research will shed light on young people's views on organ donation and will result in useful recommendations for promoting organ donation in Hong Kong.
Discussion
Young people in Hong Kong are apparently willing to be organ donors. Yet, given their high willingness, the number of registrants on the organ donor registry is surprisingly low. Therefore, strategies for promoting organ donation should be focused most on the younger generation.
For young people, the main barriers to registering to be an organ donor were reported to be 'lack of clarity about registration procedures' and 'lack of time'. Therefore, the government should have multiple promotional strategies to increase registration amongst young people.
Early identification and referral of potential organ donors can provide more patients the opportunity of donating their organs.
Consent must be given by family members to donate a deceased person's organs. Therefore, registration and family communication are important elements for final donation.
Work in the education sector should continue to address the obstacles posed by traditional culture.
Of the three suggestions proposed by the government, the paired donation scheme was most supported by the general public; both lowering the age requirement for live donation and the opt-out scheme were more controversial than the paired donation scheme.
Recommendation
Increase registration rates through the application of multiple measures
Increase the donor pool by identification of more potential donors
Prevention and education
Subsidies for live donors