Youth I.D.E.A.S. 17
Employment and Economic Development
Flexible Employment of Today's Youth

29 December, 2016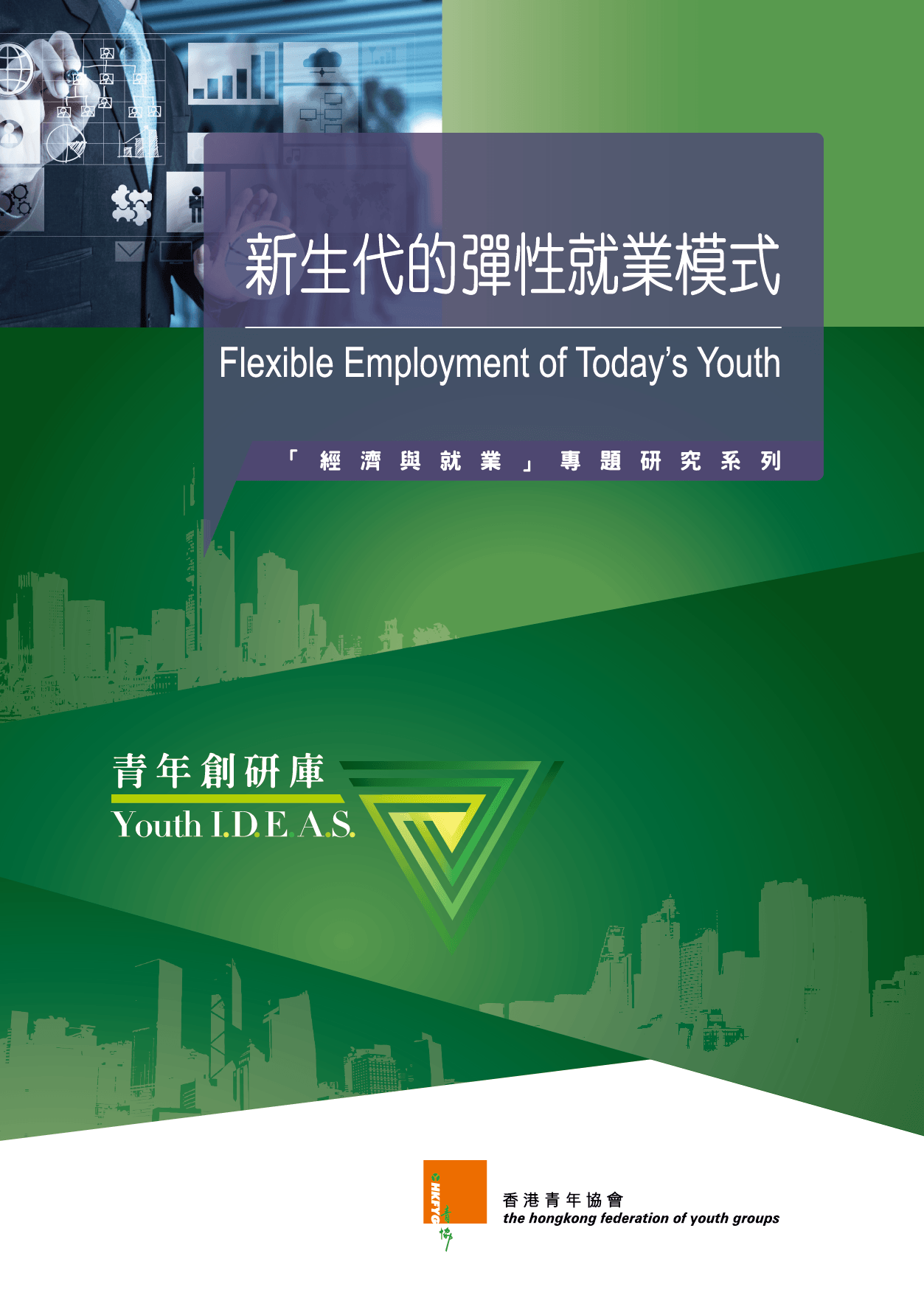 Flexible employment has become popular across the globe.  According to a survey conducted by the workforce management solutions company Kelly Services in 2015,[1] 31% of workers around the world are forsaking the traditional model of employment to pursue free agency, a form of flexible employment.  Free agents represent 34% of the workforce in the Asia-Pacific region.
This Study estimates, based on the figures of the Census and Statistics Department, that there were roughly 523,700 flexi-workers in Hong Kong in 2015, representing 13.9% of the 3,780,900-strong working population.  Earlier statistical figures[2] showed 133,600 flexi-workers aged 15-39.  The total number of flexi-workers is on the rise.[3]
Although employment patterns are changing, it remains uncertain whether relevant social values, laws and regulations, and services are able to cope with this new environment.  Since flexible employment is still widely considered informal in our society, problems faced by flexi-workers – such as those brought about by lack of employment; the management of unstable income and risk of unemployment; the support of law, accounting and insurance services; and how to deal with inadequate protection for workers – should be further investigated over the long run.
In view of the above, this Study tried to understand the background and factors of flexible employment.  It also looked at the problems faced by young flexi-workers and their employment values.  Through this approach, the Study aimed to make recommendations on improving career development opportunities for young people under the emerging trend of flexible employment.
This Study used a telephone survey to understand the views of working youth on flexible employment.  It also used case interviews to understand the opportunities and problems faced by young flexi-workers.  In addition, experts and scholars were interviewed and gave their analysis of the development of flexible employment and the pros and cons of working flexibly.
Based on the findings of the above approaches, this Study will make five recommendations which focus on improving career development opportunities for young flexi-workers.
Discussion
Intensified global competition is leading enterprises to become more flexible in manpower arrangement.  The employment values of young people have thus changed and flexible employment has become increasingly popular.
On the one hand, flexible employment raises concerns about the problem of "fictitious self-employment"; on the other, it brings about opportunities for diversified career development for young people.  Society should understand the phenomenon from different perspectives and respond accordingly from the institutional level.
There are risks of unstable income and qualifications being unrecognized in flexible employment.  Young people should start their career and life plans as soon as possible in order to reduce their chances of encountering these problems.
Young flexi-workers face difficulties in areas such as law, insurance, tax and accounting.  They would be able to access better career development opportunities if appropriate support were provided.
Society lacks awareness of flexible employment in general.  In response to its trend of expansion, the government should study flexible employment and collect relevant statistics so that manpower projections and planning can be carried out appropriately.
Recommendation
Set up a "Flexi-Circle", a platform supporting flexi-workers by providing project and vacancy information as well as business and professional consultancy and services.
Enhance legal support by providing contract templates and legal consulting services for flexi-workers.
Improve the Recognition of Prior Learning (RPL) Mechanism in the Qualifications Framework so that flexi-work experience can be accumulated and recognized.
Include the effect of flexible employment in manpower projections of the need for training and retraining plans.
Introduce the concept of flexible employment in secondary school career and life planning education in order to broaden young people's understanding of employment and to help their diversified development.
---
[1] Kelly Services. (2015). Agents of change. Retrieved from http://www.kellyservices.com.hk/US/Business-Services/Business-Resource-Center/Workforce-Trends/Agents-of-Change/#.V-ytPvT2uic
[2] Survey data of the years 2009 to 2011. Source: Census and Statistics Department. (2010). Special topics report no. 52. HK: C&S Department; Census and Statistics Department. (2012). Special topics report no. 60. HK: C&S Department.
[3] LegCo Secretariat. (2016). Challenges of manpower adjustment in Hong Kong. Research Brief, June, 2016.