Youth I.D.E.A.S. 53
Governance
Improving Operations of Advisory Bodies to Better Facilitate Youth Engagement
13 September, 2020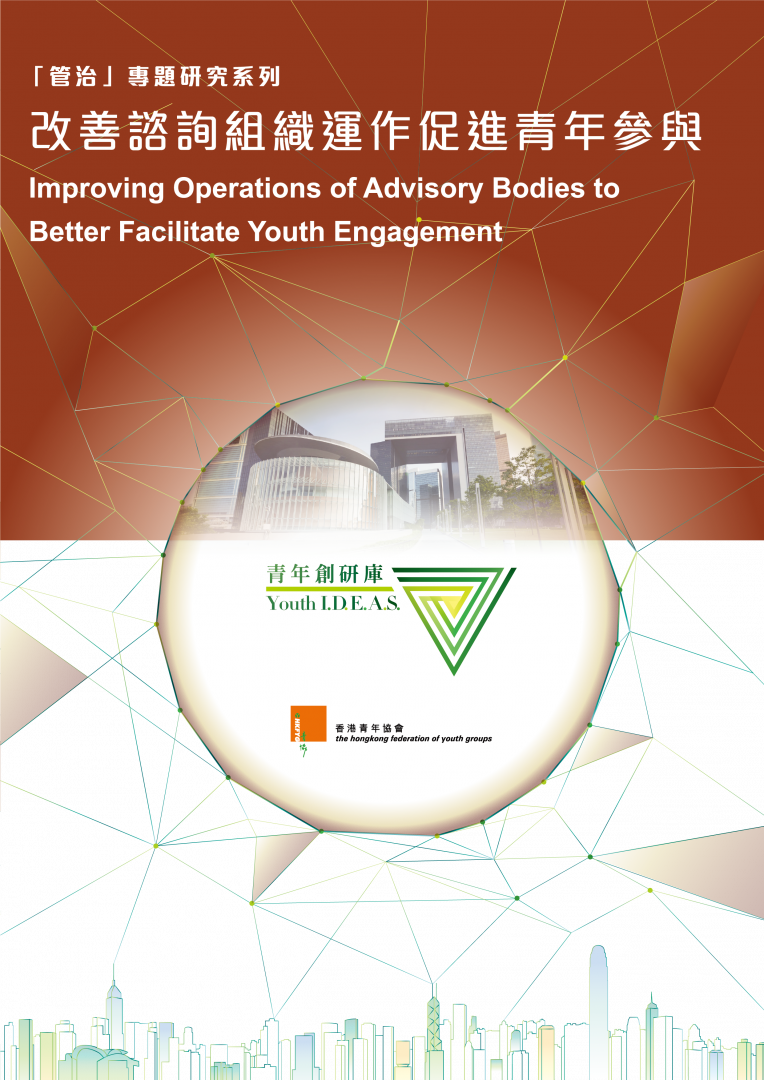 Advisory and Statutory Bodies (ASBs) were already in operation in Hong Kong in the mid-20th century. In accordance with Article 65 of the Basic Law, the HKSAR Government has maintained the same system of establishing advisory bodies by executive authorities. The government appoints suitable members of the public to serve on these bodies. The ASBs provide a platform for public engagement.
There are seven types of ASBs of which there are a current of about 500; the largest number of them being Advisory Committees. Overall, about 4,600 members of the public have been appointed to serve on about 440 of these bodies[1].
Young people are our future. They are energetic and creative. Their views and voices regarding public affairs, public policies, as well as the future development of our society, deserve attention. The current-term government, in its maiden Policy Address, set the goal of increasing the overall ratio of youth members (i.e. persons who are aged between 18 and 35) to 15% by mid-2022. However, since the ratio as at December 2019 was below 12%, the government has less than two years to achieve this target before its current term ends[2].
As citizens' awareness of participating is increasing gradually, together with other factors, the appointment-based committees of the ASBs are limited in their ability to effectively reflect public opinions. This is especially so given the current, and increasingly complicated, political environment that fails to meet the needs of young people's aspiration for participation. The social unrest of recent years, to a certain extent, has highlighted that the government lags behind in listening and responding to voices from this sector of society.
While the city has experienced many changes in recent years, the last review of ASBs was in 2003[3]. This means the role and functions of ASBs have not been assessed for more than a decade. It is therefore worth reviewing what could be done to improve the operations of advisory bodies to better facilitate youth engagement.
This research is aimed at understanding the attitude and situation of young people about taking part in the government's advisory bodies. Major barriers that impede the active participation of the youth in serving on any committee will be identified along with recommendations to address the relevant issues.
In conducting this research, data was collected between June and July 2020 through: an on-site survey of 524 young people aged 18 to 35; parallel case interviews with 18 similar individuals; and research-exclusive interviews with 3 academic and experts.
Discussion
An effective advisory-body system could help bring about better governmental governance. This system has operated in Hong Kong for decades, yet it faces challenges. The HKSAR Government should be focused on enhancing the system's performance given the ever-changing environment of the city.
There are several hundred ASBs in Hong Kong involving different government bureau and departments. A pro-active and influential leadership structure is crucial for developing an all-round strategy for ASBs in future.
ASBs provide a platform for public engagement, and as such is a matter of public importance. The government should pay attention to the public's perceptions about the efficacy of participation, and the quality of the appointed members. Securing public trust and support is essential for the continuation of the system.
While some young people aspired to participate, others had hesitations about joining advisory bodies. A poor level of trust between the government and young people was one of the factors.
Taking part in the work of advisory bodies is meaningful for youth. There are, however, barriers to their active participation, mostly including lack of skills or time. The government and society as a whole should jointly assist young people eliminate these hurdles.
Advisory bodies have limitations in absorbing youth voices from a wide variety of backgrounds. The government should explore other forms of collecting different public-opinion voices.
Recommendation
Review the role and functions of ASBs; explore the possibility of establishing a high-level, forward-looking leadership structure.
Provide concrete measures to tackle the problems that hinder youth from taking part in the advisory bodies.
Develop and drive new, out-of-the-box approaches by advisory bodies to collect opinions from members of the public from various walks of life.
---
[1] Home Affairs Bureau. Website. Retrieved July, 2020 from https://www.hab.gov.hk/en/policy_responsibilities/District_Community_and_Public_Relations/advisory.htm
[2] A speech by the Secretary for Home Affairs in the Home Affairs Panel of the Legislative Council on 2019-11-04 noted that overall ratio of youth members in the ASBs was over 11%. In other words, the percentage was still below 12%.
[3] Home Affairs Bureau. (2003). Review of the Role and Functions of Public Sector Advisory and Statutory Bodies Consultation Paper.