Youth I.D.E.A.S. 14
Society and Livelihood
Challenges Faced by Ethnic Minorities in Hong Kong

27 September, 2016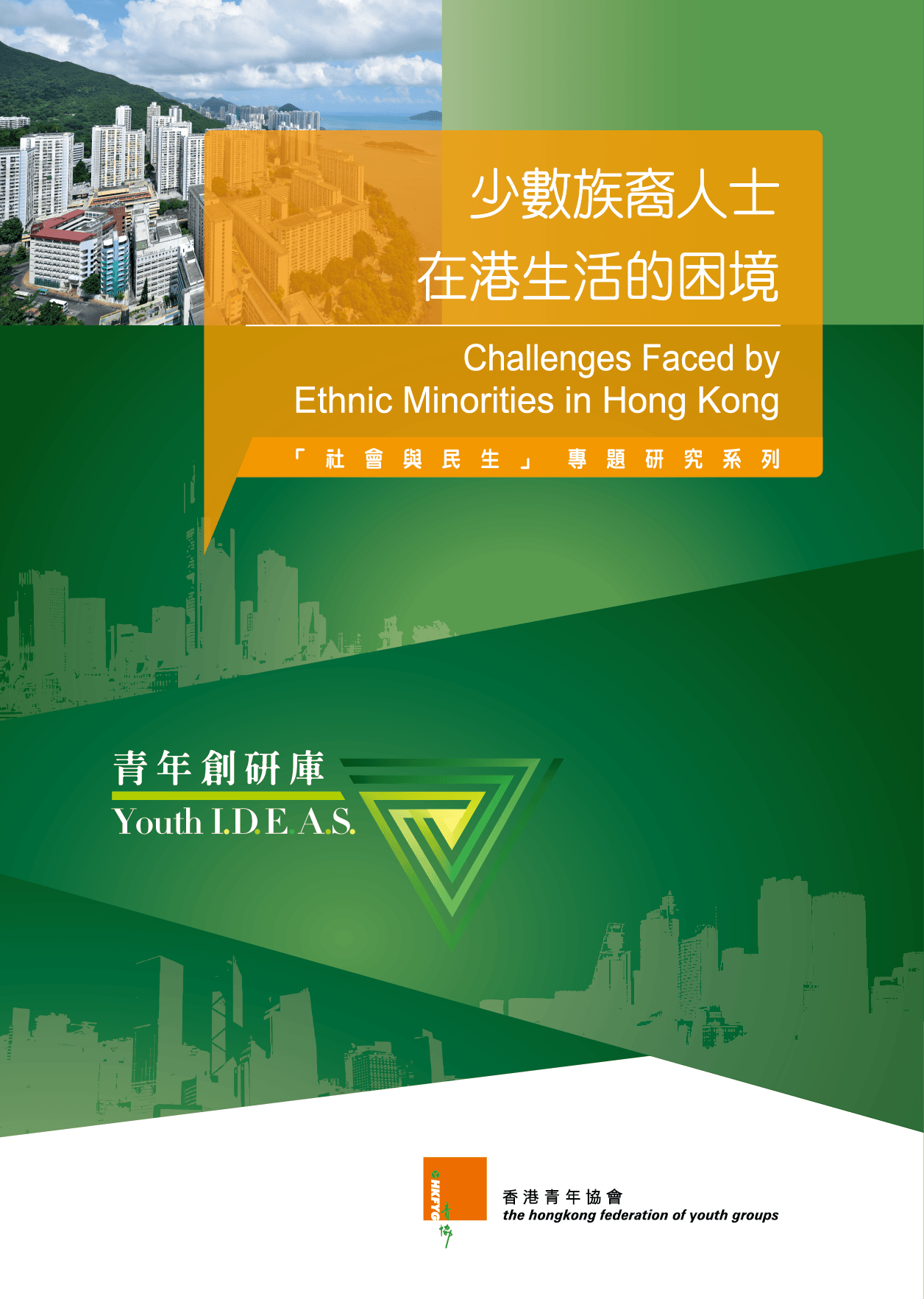 Hong Kong is a multicultural society. According to the 2011 population census, a total of 192,400 people from ethnic minorities were living in Hong Kong. Of these people, 61,400 were South Asians, which is the largest ethnic group in Hong Kong, constituting 31.9% of the ethnic minority population. The growth rate of the ethnic minorities' population is higher than that of Hong Kong as a whole, and this population is relatively young. Ethnic minorities make up an important part of Hong Kong's human capital. It is worth paying attention to whether they can integrate into the community.
Though many of the ethnic minorities who have settled in Hong Kong are native-born, they face many challenges in daily life, including language barriers, low academic qualifications, employment difficulties, as well as religious and cultural differences. These challenges adversely affect the ability of ethnic minorities to integrate, and they also adversely affect the development of Hong Kong's human resources in the long term.
As Hong Kong's population continues to age, the contributions that the younger generations make cannot be ignored. It is worth considering whether the plight of ethnic minorities can be remedied. This study is based on poll interviews with young people across Hong Kong, as well as on individual interviews with both Chinese and ethnic minority youths. With regard to the minority groups, it focuses on South Asians—namely the Indian, Pakistani and Nepali groups—to gain a better understanding of the situations they currently face, including difficulties in studying and living in Hong Kong. This study also examines the attitudes of Chinese youths towards ethnic minorities. At the end of this paper we offer feasible suggestions about how to facilitate the further integration of ethnic minorities into Hong Kong.
Discussion
Many ethnic minorities have taken root in Hong Kong and consider Hong Kong their home. They are willing to contribute to society. Hong Kong should provide opportunities to nurture the potential of ethnic minorities so that they can make contributions
The situation of "coexistence but non-communion" among the local Chinese and ethnic minorities continues and is detrimental to the long-term development of a multicultural society. Work should be done to promote social integration.
Hong Kong youths generally feel neutral towards ethnic minorities. Those who have had contact with ethnic minorities generally have positive perceptions of ethnic minorities. If more contact opportunities are provided between the local Chinese and ethnic minorities, the relationship between the two parties could be strengthened and a better integrated society could be built.
The first language of Hong Kong is Chinese. Proficiency in the Chinese language is the key to the smooth integration of ethnic minorities into society.
There are three main difficulties faced by ethnic minorities living in Hong Kong: finding opportunity for further study, finding jobs, and making friends with Chinese people.
Recommendation
Organize large-scale cultural festivals.
The media should produce content about ethnic minorities.
To enhance the Chinese-language proficiency of ethnic minorities, we suggest the following:

3.1 We recommend that the government develop practical, useful e-learning materials so that ethnic minorities can learn Chinese and successfully use the language outside the classroom. The materials should be engaging, and should start from the kindergarten stage.

3.2 The government should consider setting up a Chinese-language proficiency test as an assessment tool to measure students' competence.