Youth I.D.E.A.S. 68
Livelihood
A Study on the Rise of Fake News
The advancement of information technology and online platforms, has enabled people across the globe to have new ways to connect to each other, gather and spread information. In an era of information expansion, the spread of "fake news"[1] has become an increasingly serious issue in many regions of the world. It influences people's behaviour and choices and can create public panic[2] and social division. The decline in collective trust is significant.
Many international authorities have taken action to limit the spread of fake news. The European Union published an EU–wide Code of Practice on Disinformation for online platforms, Singapore and France passed laws on disinformation; other countries have promoted fact-checking initiatives and media-literacy education.[3]
In Hong Kong, the topic of "fake news" has recently been attracting a growing level of attention. There are also disputes about the meaning of "fake news" and with many different interpretations. The Government has yet to provide a clear definition for the term. Scholars believe that the term 'fake news' has developed its own, loaded meaning that is inadequate to describe the complex phenomena of information pollution.
"Fake news" generally refers to a phenomenon of information disorder that is inter-connected with concepts such as disinformation and misinformation. They all refer to false information that is spread with or without the intent to cause harm to individuals or society. In Hong Kong, there was widespread disinformation during the social incidents of 2019 and the outbreak of Covid-19. In the 2021 Policy Address, the Hong Kong Government stressed that tackling fake news and safeguarding cyber security are issues that need to be addressed. It is now considering the possibility of legislative intervention to regulate online disinformation and is conducting a study to examine the experience of other countries.
The proposal to legislate against fake news, though, raises concerns about free speech and Press freedom in Hong Kong. Although the Hong Kong Government has no current plan or timetable, regulating fake news is a highly sensitive issue where more in-depth discussion is needed before any decisions can be made, and any consensus can be reached. Topics that should be covered include: how fake news might be defined, what legal and non-legal measures should be considered, ensuring the right balance between regulation and protecting freedom of speech.
This study's points for discussion and recommendations, are based on information collected through a literature review, an online poll of 740 Hong Kong youth (aged 15 to 34), 10 case-interviews of youth who are frequently exposed to disinformation, and 5 interviews with scholars and experts.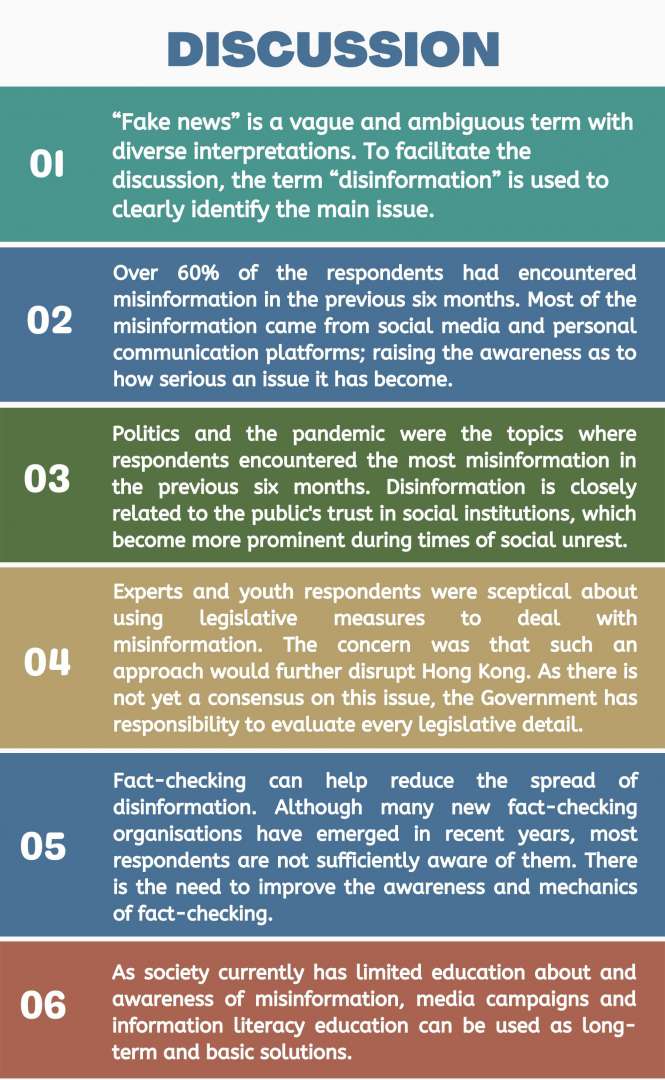 ---
[1] "Fake News" does not have a clear definition. It refers to false, inaccurate, manipulative and misleading information that goes well beyond "news" generated by media organisations. This study uses the terms "fake news", "false information" and "disinformation" interchangeably to refer to the same issue.
[2] In the early days of the Covid-19 outbreak, panic-buying of rice and toilet paper was sparked by rumours of supply shortages in Hong Kong. See https://www.rfa.org/cantonese/features/hottopic/fear-02172020092046.html
[3] The Research Office of the Legislative Council Secretariat has studied international measures to tackling online disinformation. See https://www.legco.gov.hk/research-publications/chinese/2021in14-measures-to-tackle-disinformation-in-selected-places-20210623-c.pdf
Publication
Sharing
Photos